Digital Projects
We create emphatic interactive formats of scientific
information presentation for the doctors through
digital communication channels.
Why do we need
Digital Projects
Doctors have been already used Internet, Smartphones,
participate in online events. Digital communication channels
give new opportunities to tell about the brand benefits.
Presence in the digital environment becomes an 
essential condition for success in promoting the brand.
Digital Project provides New Opportunities:
Broad reach to target
audience
Various forms of 
providing the information
Detailed online analytics
How it works
We'll help to form
Project KPI
We'll add vividness and novelty, will make
the participation useful and interesting for a doctor
Together with KOL we will create a content
taking into account KPI
We will offer a range of communication channels
and a selection of the appropriate locations
We'll tell thousands of doctors
about your project
We'll analyze the effectiveness
in order to reinforce the following stages
Cases
Original antibiotic
Bile-expelling medical productcoming soon
Educational projectcoming soon
Original antibiotic
Bile-expelling medical productcoming soon
Educational projectcoming soon
Problem
Pulmonologists perceive the brand
as the drug of choice for
a specific group of patients only. Doctors
think they know the brand well enough and
are not ready to discuss new opportunities
for the product use.
Solution
Changing perceptions of the brand efficacy
for new profiles of patients
by providing facts about the brand efficacy. Using new
interactive format of communicating with
the elements of gamification.
Idea
«Race the Professor» Interactive Quest: 
we have offered doctors to respond to 
a fixed number of questions and
to make it not only correct, but also
faster than the professor. After completing
the quest, a doctor can see one's rating
among all the participants.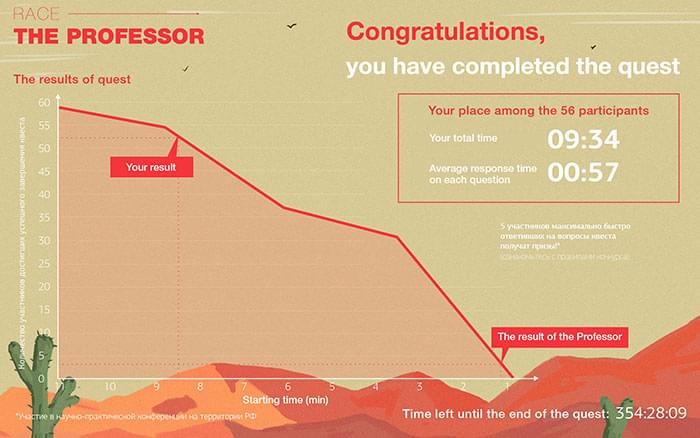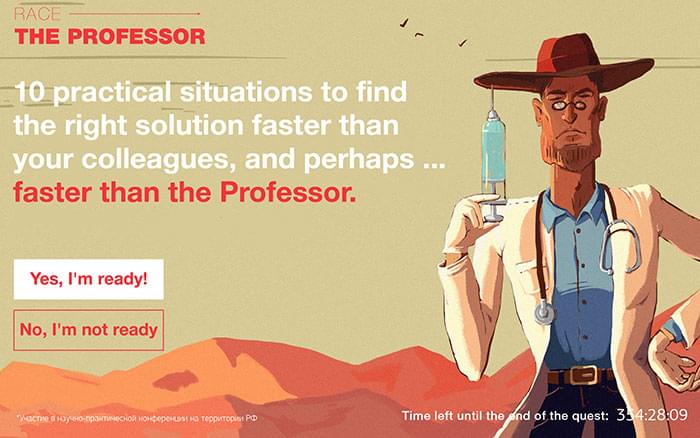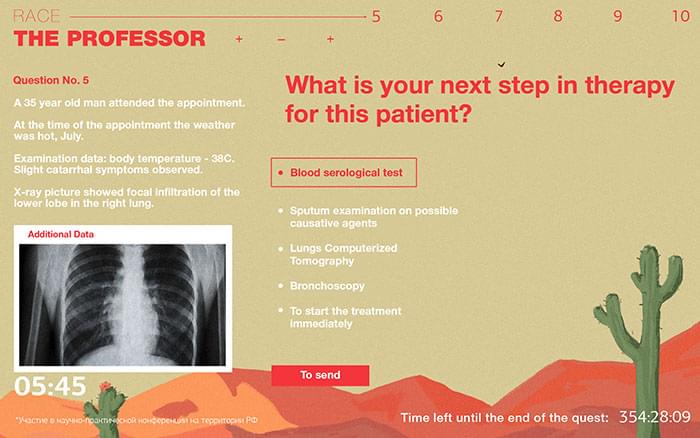 The results of the project
As a result, all KPI planned at the start of the project, have been achieved:
More than 2000 participants
More than 70% of the participants passed the quest till the end
Doctors rated the benefit of the quest for their practice as 6.2 points out of 7
Quest has also become a newsworthy event for a number of medical representatives' visits.
If you want to cooperate,
contact us